The Book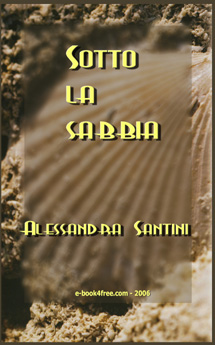 Faceva caldo quel sabato pomeriggio. Abbastanza per una gita al mare. Non tanto da spogliarsi a prendere il sole, ché di sole ce n'era poco e nuvoloni neri incombevano all'orizzonte, ma abbastanza per una passeggiata sulla sabbia, fra le dune costiere, in mezzo agli arbusti di lentisco che crescevano spontanei a due passi dal mare.
Abbastanza per Pietro, che subito aveva colto l'occasione. Zona conosciuta del resto: quando aveva bisogno di conchiglie, andava a cercarle lì, al confine con la tenuta del presidente.
«Salve, Presidente!», salutava ogni volta, sorridendo e agitando la mano nel vento, verso nessuno.
Sotto la Sabbia
by Santini Alessandra
I gialli pp. 193 Dim.: 410 kb. downloads: 1489
In Alessandra Santini's new novel police commissioner Mark Terzi and inspector Irene Corsi of the Rome Homicide Squad have to solve a very complicated puzzle: six youngsters killed and buried on the beach, a setup recalling magical rites, a fragment of an English poem, a school of magic… but is everything really what it appears to be? And the pensioned policeman, an old friend of Mark's father, is he really only a painter in search of seashells for his work?
Download
Read pdf
Write a review

Download book jacket