The Book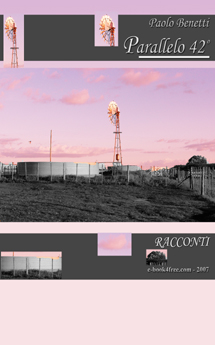 Un'alba gelida, con le dita impastate di rosa pallido, gocciolanti e fresche, ridisegna profili bianchi di neve della cordigliera Andina e quell'enorme meringa del Tronador troneggia imponente, dominando le valli sonnolente disposte ai suoi piedi.
Un'alba di inizio primavera affresca leggiadra i sogni, lasciando macchie di colore nelle speranze di un futuro prossimo venturo.
Un'alba cocciuta come un mulo si eleva dolcemente sulla steppa montagnosa, congelando esistenze mute, rustiche saggezze e aprendo lo scenario di un nuovo giorno.
La porta, insicura costruzione di assi assemblati senza precisione, circondata da una casa di legno, edificata in forma occasionale con quel tocco di definitivo che hanno in se le cose precarie, si apre gemendo al mattino e ne esce un uomo con il mate in mano e miracolosamente finisce con gli occhi in tutte queste albe, una dietro l'altra, che entrano come refoli di vento gelato tra gli spiragli dei suoi sfilacciati vestiti.
Parallelo 42°
by Benetti Paolo
La narrativa pp. 138 Dim.: 368 kb. downloads: 1292
Three very different stories, each full of vitality and strong colours that stick in the imagination for a long time.
A native professional hunter on the track of a puma in the Patagonia steppe;
A barber's son, in Italy, who becomes a taxidermist for love;
And to connect such different stories, an Italian cyclist facing the problem of a car stuck on a wooden bridge in the middle of nowhere near Bariloche, but a surprisingly animated nowhere.
Download
Read pdf
Write a review

Download book jacket