The Book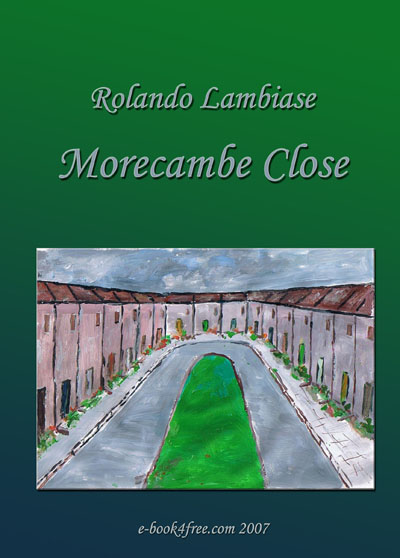 Morecambe Close è 1 cul-de-sac 5 miglia a sud-est del City Centre. Si trova in 1 distretto abitato da sudditi d'ogni specie: impiegati, pensionati, laburisti, disoccupati-in-dolo, scrocconi, madri-non-maritate, ex-calciatori, modelle, monelle, concubini, gamblisti & affini. Tutt'intorno nella zona, altre file di case comunali schierate spalla a spalla, 3-4 blocchi di appartamenti angusti, eretti malinconici nella plumbea atmosfera del North-West. Le ampie chiazze di verde - altrimenti monotone alla vista - intervallano opportunamente le rette linee grigie di case e vie, in molti punti (osserva 1 uccello dall'alto) animate da vuoti di pepsi e crisps multicolori. Agili ed essenziali, i padiglioni dello Stato assistenziale sono presenti in numero cospicuo: qui la scuola elementare, lì l'asilo nido; qua il presidio sanitario, là il collocamento e l'ufficio di sicurezza sociale; laggiù in fondo, 1 parco spelacchiato con scivoli, altalene e porte di calcio con reti sfondate; al centro, l'immancabile pub succhiasterline, catalizzatore insostituibile, secolare livellatore delle popolazioni nordiche.
Morecambe Close
by Lambiase Rolando
La narrativa pp. 79 Dim.: 182 kb. downloads: 1160
A milkman's rounds (a basic British institution, like the postman, the window-cleaner and the tax collector), in a popular mews in a Naples-like town in the North-West, Liverpool. Milkie Lattek does his rounds on a Sunday morning, probably in the 'seventies, but the cultural substratum of his adventures and discoveries could well be Victorian or Edwardian. The bantering and ironic description of his vicissitudes emphasizes the fantastic tone of the text and its tendency toward the mysterious and the irrational, characteristic of the local popular culture.
Download
Read pdf
Write a review

Download book jacket